Lighting's march into IT and the IoT continues apace, as Osram picks up a strategic share of a Swiss startup that engages shoppers in brick-and-mortar stores.
In its latest move to transform from a lighting company into a self-described "high-tech" outfit, Osram has acquired a significant minority interest in a Swiss software startup that delivers individualized deals and product information to shoppers' smartphones in malls and retail stores.
Interested in articles & announcements on smart lighting and IoT?
Osram said it "has gained a strategic minority interest" in Zurich-based beaconsmind AG, the company that already works with Osram on a smart lighting job at 23 Guess and Marc O'Polo shops and at shopping centers owned by Swiss fashion retail group Bollag-Guggenheim.
The equity stake is another step by Osram and the lighting industry to use the world's lighting infrastructure as a backbone for information technology services, and to bank lighting's future on Internet of Things (IoT) services in which lights connect to the Internet.
In the retail world, those services include equipping ceiling lights with chips and other technologies that communicate with shoppers' phones.
Osram is so intent on moving into a high-tech mindset that on some jobs it will even forgo selling lighting and will instead sell IT technology connected to the lighting.
At the 23 Bollag-Guggenheim stores, for example, it is integrating Bluetooth radio beacons into non-Osram brand lighting, delivering Osram's Einstone indoor positioning and customer engagement services. The beacons communicate with app-outfitted phones.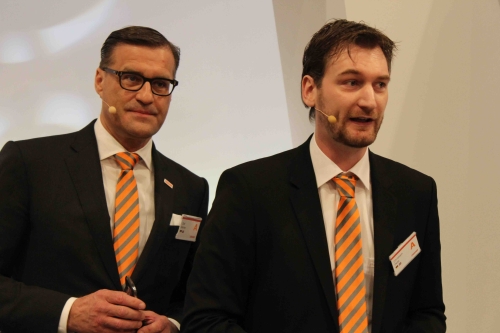 Osram CEO Olaf Berlien (l) is serious about this high-tech stuff, which includes a strong push into Bluetooth-based indoor positioning and retail customer engagement by the company's Einstone business, headed by Christoph Peitz (r). (Photo credit: Mark Halper.)
On the Bollag-Guggenheim project, beaconsmind software integrates point-of-sale software at the Guess and Marc O'Polo stores with customer relations management (CRM) software, giving the system an understanding of the customer's purchasing history and proclivities through the customer's loyalty scheme. The IoT technology has generated over a 10% increase in sales since it was installed, Osram claimed.
"We help companies digitalize their business models," beaconsmind says on its website. "Using iBeacon and beaconsmind technology, we drive sales and customer loyalty in our clients' retail stores."
Osram described the combination of Einstone and beaconsmind technology in general as providing "a personalized approach to customers, detailed analysis, and the linking of sales channels at retail stores, fashion brands, and shopping centers," and noted that "with the help of individual brand apps, customers can be informed on site about interesting deals and learn about loyalty programs."
Neither Osram nor beaconsmind would reveal the size or percentage share of Osram's IoT investment. Osram purchased the stake through the Fluxunit business accelerator group it established a year ago.
"Beaconsmind is a very good fit with Osram," said Fluxunit managing director Ulrich Eisele. "Working together, we can actively shape the future of the [brick and mortar] store business in this age of online retailing."
Beaconsmind is also backed by a number of individual Swiss investors including Beat Curti, an entrepreneur known for investing in media and retail. The company was founded in January 2015.
Osram CEO Olaf Berlien has for a couple of years proclaimed that Osram is repositioning itself as a technology company. He and other Osram executives have repeatedly referred to Osram's transformation into a "high-tech company." They have backed up that assertion with a number of moves, such as establishing Fluxunit; hiring a former chip, sensor, and power electronic specialist from Robert Bosch GmbH as its new chief technology officer; hiring another former Bosch Group boss as its head of corporate innovation and research.
It's all part of a move away from the rough-and-tumble old business of selling light bulbs, a profit-challenged endeavor in the era when LED lamps will last for a purported 20 years and deprive the industry of the replacement sales on which it has long relied. When Osram completed the sale of its LEDvance bulb group to a group of Chinese companies early this year, Berlien called it "a milestone for Osram in its strategic realignment," and said that "as a high-tech company, we will be able to participate in attractive future growth markets even stronger in the future."
In a sign that Osram has not lost sense of its roots, it actually referred to itself as a lighting company in today's announcement.
Its press release starts with the lines: "Osram acquires a stake in the Swiss company beaconsmind AG. … The lighting company has gained a strategic minority interest in the start-up that offers smart software to retailers, enabling a personalized approach to customers."
The investment in beaconsmind comes as IoT activity continues to pick up across the lighting industry. For instance, American retail giant Target recently said it plans to install IoT lighting from Acuity Brands offering indoor positioning services at nearly 1000 stores by Christmas.