Interested in articles & announcements on IoT and smart lighting technology?
The new Global Customer Remote Operations Center (ROC) in Bengaluru (the official name for Bangalore) is one of the most resounding illustrations yet of how lighting vendors are attempting to transform themselves into information technology players, treating LED lights and luminaires as nodes on networks and using those networks to improve lighting management and to collect data.
By analyzing data, companies like Philips can then provide insights not just about lighting but about other business operations. For example, they can advise office buildings how to reassign space — Philips claimed earlier this week that offices around the world can save a staggering $1.5 trillion by cutting down on under-utilized premises. And companies can help smart cities figure out how cut down on traffic and pollution. They can also become a data vendor to the wider market.
While Philips and other lighting vendors have been promoting data-centric lighting schemes for some time now, the Bengaluru center marks one of the first, if not the first, publicly known examples of establishing a global lighting-related management center. The opening of the ROC effectively echoes the common practice of large IT and network companies that typically set up similar centers around the world. Philips is working in partnership with $7.2 billion Indian IT and software company HCL Technologies.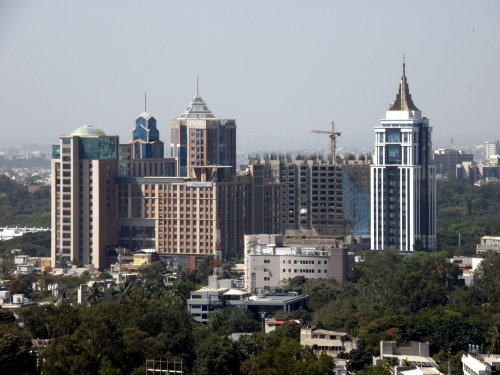 Bengaluru, in the south of India, is one of the country's largest metropolises. Philips said the area's "large software talent pool" makes it an ideal place in which to open a global customer operations center. (Photo credit: Prateek Karandikar [own work], via Wikimedia Commons.)

"We live in an age when lighting is digital and connected by networks to apps, systems, and other devices," said Philips Lighting's business leader of professional services Marie-France Crevecoeur. "We have established this center to help our customers get the most from their connected lighting infrastructure and will provide them with a range of managed services from real-time fault reporting to in-depth consultancy services." The consultancy will draw largely on data insights, Philips emphasized.
It remains to be seen, though, whether it really makes sense for a Philips customer — for example, Los Angeles and its tens of thousands of Philips LED streetlights — to rely on monitoring from halfway around the world.
Philips did not provide the names of any customers who will use the service, which it said can work with a variety of Philips management systems, including Philips CityTouch for street lighting, Philips ActiveSite for architectural lighting, and Philips InterAct Office for office lighting. It said the biggest value to customers will come from energy and operational cost savings, as the system will help them run lights more efficiently and will shorten the time for identifying and repairing faults.
Citing an often-noted figure that lighting accounts for 15% of the world's electricity consumption, Philips said connected and cloud-based lighting management schemes will reduce that figure to 8% by 2030.
"We can provide customers with real-time data analytics and insights into their connected operations that will help them to improve their business," said Philips Lighting South Asia CEO Sumit Joshi.
"Bengaluru's large software talent pool makes it the ideal place to base a global customer remote operations center to serve Philips Lighting's customers globally," added Philips Lighting chief information officer Kurt De Ruwe. "Establishing this center is an important milestone and further strengthens our leadership position as the lighting company for the IoT. We are playing an important role in the world of connected lighting through data-enabled services by creating valuable insights for our customers."
The new center marks Philips' second big move this month in the IoT, following its alliance with American Tower Company to deploy 4G and 5G cellular connections for smart lighting schemes.
The pace of IoT lighting announcements has been steadily picking up. Dijon, France for instance, recently tapped a team of technology and lighting companies for a €105 million ($124 million) smart city project that will rely heavily on lighting to gather data and boost services such as traffic management and public safety.
Still, not all cities are rushing into broad IoT deployments. An announcement of a new LED street lighting project in Knoxville, TN this month made no mention of novel IoT services such as for traffic management. Instead, it focused on the improved light quality that the Siemens and Acuity deployment will bring.